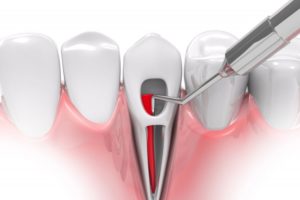 Modern dentistry has made it possible to restore damaged or decayed teeth successfully and conveniently. One of the best dental services to do this is root canal therapy. While often met with a groan when told by a dentist that you will need this procedure, it actually is good for your smile! By removing and cleaning the inner infection of the tooth, as well as restoring its lost structure, you will be on your way to improved oral health and a healthy smile. Read on to learn four reasons why root canal therapy is good news for your smile.
Reason 1: Your Tooth Can Still Be Saved
If the inner part of the tooth (called the pulp) becomes extremely infected, there is an increased risk of it having to be removed. Having a missing tooth will not only affect the appearance of your smile, but it can also cause other oral health issues. Your bite can become misaligned and your jawbone can deteriorate due to lack of stimulation. With root canal therapy, your dentist can treat and restore your pearly white so it doesn't have to be extracted.
Reason 2: You'll Soon Find Relief from Your Pain
Usually, a severe toothache will cause people to visit their dentist to see what is causing the pain. The irony of root canal therapy is that you will experience more discomfort from your infection than the actual procedure! The intense toothache that drove you to seek dental care is reacting to the bacteria irritating the nerves. Once your dentist removes the infection and cleans it out, you will find relief! As a matter of fact, most people report that they only experience very mild discomfort after root canal therapy.
Reason 3: Your Smile Will Remain Natural and Whole
Having a whole and healthy smile can easily be taken for granted. After all, you may not even think twice about how your full set of natural teeth allows you to do many things, such as enjoy a wide range of foods, as well as speak clearly and easily. By getting your tooth treated early on with root canal therapy, you won't have to worry about any tooth loss and seeking a replacement for it. While tooth replacement options like dental implants are reliable and long-lasting, it's always best to keep your original pearly whites!
Reason 4: You'll Save Money on Tooth Replacements
As stated above, if left untreated, it is very likely you will have to have your tooth extracted and need a replacement. While restorations such as dental bridges, dentures, and dental implants can restore a smile, they do have a higher price tag than root canal therapy. Additionally, bridges and dentures will eventually need to be replaced, which would be an additional cost. Root canal therapy not only helps you avoid all the inconveniences of replacing your tooth, but it will also ultimately save you money!
The case is proven! Root canal therapy is really not something that should be dreaded due to the fact it does benefit your oral health. With your restorative procedure, you will be flashing a complete, healthy smile in no time!
About the Author
Dr. Ye Wang and her team at Plum Grove Family Dental keep the smiles of Rolling Meadows whole and healthy. With over two decades of experience and a 5-star rating on Google, her goal is to help you restore your teeth to their best condition! She offers a wide range of services and procedures under one roof, including root canal therapy. To schedule an appointment, visit her website or call 847-221-5860.