Veneers – Rolling Meadows, IL
Transform Your Smile in Just Two Appointments
Is your smile plagued by stains, chips, or gaps in your teeth? Then you might benefit from a treatment known as veneers. Dr. Ye Wang, your cosmetic dentist in Rolling Meadows, can affix these custom restorations to your teeth to correct virtually any kind of minor smile imperfection, such as chipped teeth, small gaps between teeth, and stubborn stains that don't respond to whitening treatment. Veneers are thin shells made of durable dental porcelain, customized to meet the smile needs of each and every patient. To learn more about veneers and how they can benefit your smile, keep reading below, or give us a call today.
The Veneers Procedure
The great thing about veneers in Rolling Meadows is they can transform your smile in just two appointments (after your initial consultation). At your first visit, Dr. Wang will prepare your teeth by shaving off a very thin sliver of enamel. This will ensure your veneers don't bulge out, instead laying flat in your smile. Then, she will take impressions of your prepared teeth, sending them to a dental lab to be fabricated by a team of skilled ceramists. After impressions are taken, we'll place temporary veneers to protect your smile and let you get used to the way they feel in your mouth. During your second appointment, we'll take off the temporaries and place your permanent veneers, allowing you to smile with complete confidence.
As an alternative to traditional veneers, we also offer Lumineers. These special veneers are even thinner than conventional ones. This means we don't have to remove any enamel at all to make room for them, making Lumineers easier and quicker to place and remove when the time comes.
Benefits of Veneers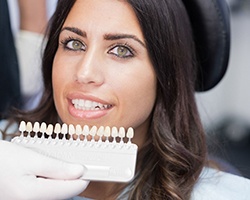 Arguably the greatest advantage of veneers is how versatile they are. They can correct several different smile flaws in just one treatment, such as chips, cracks, discoloration, worn-down teeth, misshapen teeth, or even mildly crooked teeth (giving them the nickname "instant orthodontics"). Getting veneers can save you a lot of time in the dental chair by addressing all of your concerns in a single treatment.
You might be nervous that veneers won't appear natural, but that couldn't be further from the truth. Each veneer is painstakingly created to match your individual smile specifications, including shape and color. Onlookers shouldn't even be able to tell that your veneers aren't your "natural" teeth!
Lastly, veneers are able to last for quite some time (up to 20 years) provided you take excellent care of them. This entails regular brushing, flossing, and checkups and cleanings with Dr. Wang. It may also help to invest in a nightguard if you grind your teeth while sleeping and a mouthguard if you play sports.
Understanding the Cost of Veneers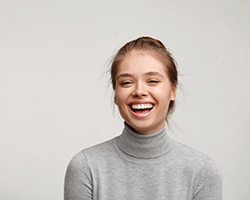 There are a few factors that may influence the total amount you'll end up paying for your new smile, such as how many veneers you're receiving, on which teeth they will be placed, and whether you opt for traditional veneers or Lumineers. Keep in mind, though, that veneers are a sound investment in both the appearance and health of your smile, so they are virtually always worth the cost. During your initial consultation with Dr. Wang, she can go over any potential costs with you, and you can decide whether it's worth it to you.
Veneers FAQs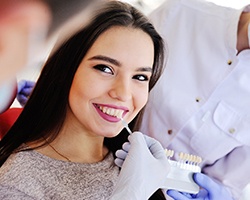 Since veneers in Rolling Meadows can fix stains, chips, and other imperfections in as little as two visits, it's no wonder why so many patients choose this cosmetic treatment to achieve their smile goals. If you are interested in perfecting your smile but have a few questions before committing to treatment, Dr. Wang and our team at Plum Grove Family Dental are here to help. We've answered a few frequently asked questions below in case you want to do a bit more research before giving us a call. However, if you'd prefer to contact our office for immediate assistance, feel free to do that as well!
Who Is a Good Candidate for Veneers?
If you have discolored, cracked, or gapped teeth, then you may be a candidate for veneers! The best way to find out for certain is by scheduling an appointment with our dentist in Rolling Meadows, Dr. Wang. From there, she can conduct a thorough dental exam and discuss your smile goals in-depth to determine if veneers are indeed the best option for you. If she discovers untreated dental concerns, like tooth decay or gum disease, then she will create a custom treatment plan to restore your oral health beforehand. That way, you can get the long-lasting, beautiful results you deserve.
How Long Do Veneers Last?
Generally, veneers last 5 to 10 years. That being said, they can last much longer if they are cared for properly. Fortunately, this can be easily done by brushing twice a day, flossing daily, and visiting our office every six months for a checkup and cleaning. This will preserve their pristine condition while also ensuring your oral health is in tip-top shape!
How Do I Get Veneers to Match My Other Teeth?
There are two ways Dr. Wang can create a seamless result if you aren't undergoing a complete smile makeover with porcelain veneers. The first option is to meticulously match your veneers to the current shade of your enamel, which will ensure they blend in perfectly. However, if you are looking to brighten your smile as well, then Dr. Wang can choose a lighter shade for your veneers and match your remaining teeth with a teeth whitening treatment. Either way, you can rest assured the outcome will be flawless!
Are There Any Foods I Should Avoid with Veneers?
During the recovery period, we strongly encourage you to stick with soft foods, like yogurt and soup. As you heal, you can begin to incorporate your usual diet back into your daily life. That being said, we do recommend staying away from foods that can cause your veneers (like your natural teeth) to chip, like hard candy, caramel apples, nuts, pumpkin seeds, and popcorn. Additionally, you shouldn't chew on items like ice and pen caps, which pose a similar risk.
Do veneers sound like a good fit for you? Take the next step toward your dream smile by contacting our office today to schedule your initial consultation!