Veneers – Rolling Meadows, IL
Transform Your Smile in Just Two Appointments
Is your smile plagued by stains, chips, or gaps in your teeth? Then you might benefit from a treatment known as veneers. Dr. Ye Wang, your cosmetic dentist in Rolling Meadows, can affix these custom restorations to your teeth to correct virtually any kind of minor smile imperfection, such as chipped teeth, small gaps between teeth, and stubborn stains that don't respond to whitening treatment. Veneers are thin shells made of durable dental porcelain, customized to meet the smile needs of each and every patient. To learn more about veneers and how they can benefit your smile, keep reading below, or give us a call today.
The Veneers Procedure
The great thing about veneers in Rolling Meadows is they can transform your smile in just two appointments (after your initial consultation). At your first visit, Dr. Wang will prepare your teeth by shaving off a very thin sliver of enamel. This will ensure your veneers don't bulge out, instead laying flat in your smile. Then, she will take impressions of your prepared teeth, sending them to a dental lab to be fabricated by a team of skilled ceramists. After impressions are taken, we'll place temporary veneers to protect your smile and let you get used to the way they feel in your mouth. During your second appointment, we'll take off the temporaries and place your permanent veneers, allowing you to smile with complete confidence.
As an alternative to traditional veneers, we also offer Lumineers. These special veneers are even thinner than conventional ones. This means we don't have to remove any enamel at all to make room for them, making Lumineers easier and quicker to place and remove when the time comes.
Benefits of Veneers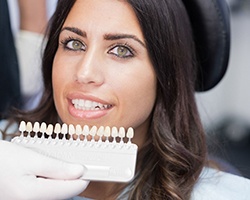 Arguably the greatest advantage of veneers is how versatile they are. They can correct several different smile flaws in just one treatment, such as chips, cracks, discoloration, worn-down teeth, misshapen teeth, or even mildly crooked teeth (giving them the nickname "instant orthodontics"). Getting veneers can save you a lot of time in the dental chair by addressing all of your concerns in a single treatment.
You might be nervous that veneers won't appear natural, but that couldn't be further from the truth. Each veneer is painstakingly created to match your individual smile specifications, including shape and color. Onlookers shouldn't even be able to tell that your veneers aren't your "natural" teeth!
Lastly, veneers are able to last for quite some time (up to 20 years) provided you take excellent care of them. This entails regular brushing, flossing, and checkups and cleanings with Dr. Wang. It may also help to invest in a nightguard if you grind your teeth while sleeping and a mouthguard if you play sports.
Understanding the Cost of Veneers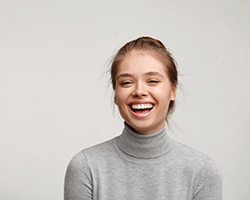 There are a few factors that may influence the total amount you'll end up paying for your new smile, such as how many veneers you're receiving, on which teeth they will be placed, and whether you opt for traditional veneers or Lumineers. Keep in mind, though, that veneers are a sound investment in both the appearance and health of your smile, so they are virtually always worth the cost. During your initial consultation with Dr. Wang, she can go over any potential costs with you, and you can decide whether it's worth it to you.