Dental Bonding – Rolling Meadows, IL
Transform Several Teeth in One Treatment
At Plum Grove Family Dental, our goal is for all of our patients to be perfectly satisfied with their results, whether they require extensive restorative treatment or they just want a smile makeover. If you identify more with the latter, then we might recommend you undergo dental bonding in Rolling Meadows. We can use this treatment to beautify several teeth at once that don't align with the way you believe your smile should look. To learn more about dental bonding, keep reading below, or just call us!
What Is Dental Bonding?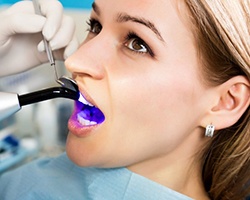 Also known as direct bonding or cosmetic bonding, direct bonding involves applying a composite resin to a tooth to improve its shape, size, color, and proportion. This material is actually the same one we use in tooth-colored fillings. It's incredibly versatile, and its color can be matched to blend in with your existing enamel. Your results will look perfectly natural!
Some aesthetic imperfections that dental bonding can correct are:
Stains
Chipped or cracked enamel
Short or stubby teeth
Minorly gapped teeth
How Does Dental Bonding Work?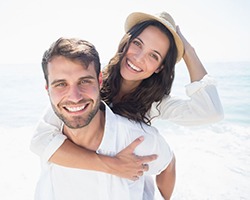 The treatment process begins with Dr. Ye Wang using a shade guide to determine what color of composite resin to apply. Then, to prepare the enamel of the affected teeth, a light etching solution is administered to roughen the surface a little bit. A conditioning liquid is also applied to the teeth. These steps help the resin effectively attach to the enamel. Next, we carefully apply the resin to the teeth in layers. An ultraviolet curing light hardens the material within seconds. Lastly, we trim and polish the resin until you're happy with the results.
Depending on how many teeth you're wanting to treat, your bonding appointment may only last an hour or so. The procedure is quite comfortable, with most patients requiring no anesthesia. You should be able to eat and drink right after your appointment.
Benefits of Dental Bonding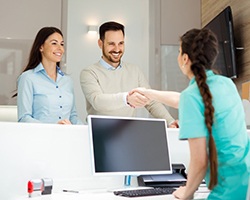 Here are just a few of the numerous benefits that dental bonding has to offer:
The treatment process is quick, easy, and painless. Unlike many other cosmetic treatments, bonding can be completed in a single appointment since there is no need to work with a dental lab.
Dental bonding costs significantly less than veneers, and can achieve virtually the same results.
Bonding looks so natural that onlookers shouldn't even be able to notice that you had dental work done.
With proper care and maintenance, your bonding can last a decade or even longer.
Is Dental Bonding Right for Me?
You might be a good candidate for dental bonding if you're looking for a fast way to transform a couple of aesthetically imperfect teeth. However, if you want a total smile makeover, or you want results that last longer, porcelain veneers or dental crowns might be a better option for you.
When you meet with Dr. Wang for your cosmetic consultation, she'll discuss your smile goals and review all the options available to help you achieve them. Then you can make an informed choice about how to attain the smile of your dreams.