Dentures – Rolling Meadows, IL
A Reliable, Cost-Effective Tooth Replacement Option
If you are one of the 120+ million Americans struggling with tooth loss, then you know even one missing permanent tooth can negatively impact your smile, bite, and speech. Fortunately, that's where modern dentures in Rolling Meadows come in! This reliable, cost-effective tooth replacement option can fill in each gap in your smile so you can enjoy each day to the fullest once more. To explore your options in-depth, contact our office to schedule your initial consultation!
Why Choose Plum Grove Family Dental for Dentures?
Talented Dentist with 20+ Years of Experience
Top-Rated Dental Team in Rolling Meadows
Dental Insurance and Flexible Financing Welcome
Who Is a Good Candidate for Dentures?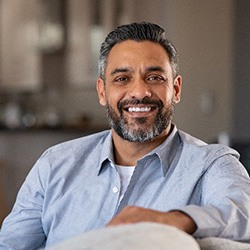 If one or more missing teeth have stopped you from smiling confidently, chewing without pain, and speaking clearly, then dentures may be the solution you've been looking for! At your consultation with Dr. Wang, she will sit down with you one-on-one to learn about your dental history and the severity of your tooth loss before determining if partial, full, or implant dentures are right for you. So, if you're ready to take the next step toward a full, healthy, beautiful smile again, don't hesitate to contact us.
Types of Dentures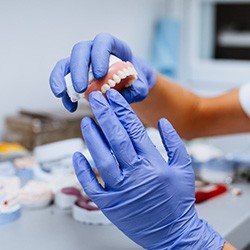 At Plum Grove Family Dental, we offer our patients three types of dentures. Regardless of the one you choose, you can have peace of mind knowing yours will be custom-made to look natural and function seamlessly. If you want to learn more about each of the options available to you, keep reading!
Partial Dentures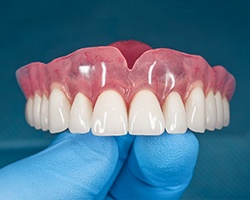 If you have more than one missing tooth, but still have a few of your natural ones intact, partials are the best option. Not only will they preserve the natural, healthy structure that remains, but they are also custom-made to your unique smile, which ensures it will blend in seamlessly. They are also entirely removable, and they are held in place by a discreet metal framework that clasps onto your remaining teeth.
Full Dentures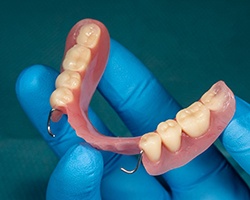 If you are missing an entire arch of teeth, then full dentures are the ideal solution for you. By adhering your prosthetic teeth to a gum-colored base, your new appliance will look and feel extremely life-like. They are securely held in place with a combination of natural suction and denture-friendly adhesive so you can go about your daily activities with maximum comfort and minimal movement. Plus, they are entirely removable, allowing you to complete your standard oral hygiene routine hassle-free!
Implant Dentures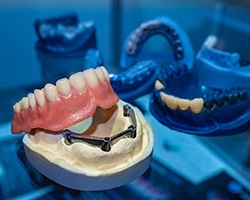 Implant-retained dentures are where state-of-the-art dental implants and tried-and-true dentures intersect. By attaching your dentures to the sturdy posts used with traditional dental implants in Rolling Meadows, patients can enjoy unmatched durability and an extended lifespan. Plus, this option bypasses the need for routine adjustment appointments since the implants stimulate your jawbone, effectively preventing bone deterioration.
The Benefits of Dentures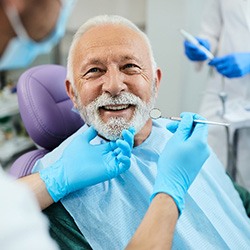 Decade after decade, dentures continue to be one of the most sought-after tooth-replacement solutions – there are several reasons for this! Here are a few:
Dentures are cost-effective.
Dentures can replace several missing teeth or an entire arch.
Dentures are custom-made for each patient, ensuring they look and feel great.
Dentures are easy to care for.
Dentures can last for a decade or more with proper care.
Dentures can restore the look and function of your smile.