Dental Crowns & Bridges - Rolling Meadows
Tooth Restorations Done Seamlessly
The goal of restorative dentistry is to repair injured teeth and ensure you have a healthy, complete smile you can be proud of. One of our most popular restorative treatments involves dental crowns and bridges. Dr. Ye Wang can easily perform both of these procedures to improve the appearance and the health of your smile. Keep reading below to learn about dental crowns and bridges and how they can benefit you.
How Do Dental Crowns Work?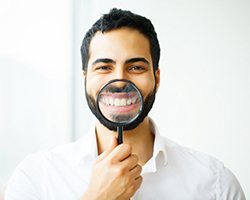 A dental crown is a thin, tooth-shaped cap that is securely bonded to an injured or decayed tooth to restore its structure, function, and appearance. Each crown is custom-made to match the exact dimensions of your dentition. We may recommend a dental crown in a number of cases, such as:
Repair a large cavity
Fix a broken tooth
Hold a weakened tooth together
Help even out a patient's bite
Cosmetically enhance a permanently stained or misshapen tooth
Complete a dental implant
Depending your oral health needs, a dental crown can be made from a variety of materials. Porcelain or ceramic are great options for front teeth because of their uncanny ability to resemble natural tooth enamel. Gold or metal crowns are ideal for molars because those teeth must withstand the daily wear and tear of chewing.
How Do Fixed Bridges Work?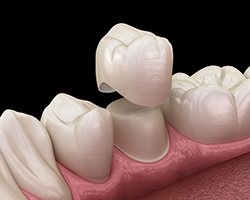 A fixed bridge replaces one, two, or even several consecutive missing teeth at once. This restoration gets its name because it functions like an actual bridge: two dental crowns are placed on the teeth at either end of the gap in your grin, with prosthetic teeth called pontics filling the space in the middle. Fixed bridges can only be removed by your dentist. Typically, bridges are made from porcelain fused to metal to create a solution that blends natural appearance with long-lasting sturdiness.
Benefits of Crowns and Fixed Bridges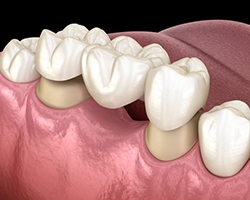 Crowns and bridges have long been popular treatments for patients with damaged or missing teeth, and for good reason. These restorations are custom crafted to blend in with your unique smile. Onlookers shouldn't even be able to tell that they aren't your "real" teeth! Additionally, crowns and bridges are strong enough to restore your ability to smile, talk, and chew with confidence for years to come. Crowns protect a decayed or injured tooth from further damage, while bridges prevent surrounding teeth from drifting to fill in the gap created by one or more missing teeth.
How to Care for Your Crown or Fixed Bridge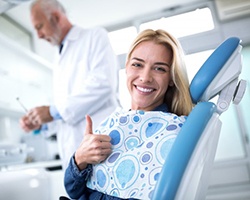 While your restoration itself cannot incur decay, the natural teeth underneath it certainly can. For this reason, it's imperative you take good care of your crown or bridge to ensure they last for years. Brush and floss your teeth every day as you normally would, and be sure to visit Dr. Wang twice a year for dental checkups and cleanings. To achieve an even more thorough clean, you can invest in an interdental brush or water flosser to rid your restoration of harmful plaque.
Learn More About Crowns and Bridges
If you have a severely damaged tooth, or a gap in your smile that you'd like to get filled, call our Rolling Meadows office today to schedule a consultation for a crown or bridge. It could be just the thing your smile needs to really shine!