Zoom! Teeth Whitening – Rolling Meadows, IL
Getting a Brighter Smile With Trusted Treatment
Living with stained teeth can wear away at your confidence and make you feel embarrassed by your smile. Instead of burning through your teeth whitening fund by purchasing countless over-the-counter kits from your local department store, you can achieve trusted and lasting results with professional treatment from your cosmetic dentist in Rolling Meadows, Dr. Ye Wang. At Plum Grove Family Dental, we use Zoom! Teeth Whitening system, which is comprised of tested, reliable, and highly concentrated ingredients that achieve amazing results.
What Causes Tooth Discoloration?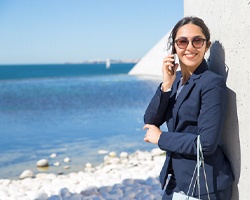 There are several reasons why your teeth may become stained. Some of these include:
Certain Foods & Drinks: Beverages and foods that contain high amounts of tannins can cause your teeth to darken. These include items such as red wine, soy sauce, tomato-based sauces, and blackberries.
Tobacco Use: Whether you chew or smoke tobacco products, they can cause your teeth to develop a brownish tint.
Poor Dental Hygiene: Without removing plaque and food debris daily, these can build up and cause teeth to appear yellow.
Medications: Certain antibiotics such as tetracycline, along with antihistamines, can cause teeth to look discolored.
If you notice that your teeth aren't as white as they used to be, these factors could be the culprit. Many store-bought whitening kits don't contain ingredients that are strong enough to fight these stains, which is why professional treatment is the most cost-effective solution.
What is Zoom! Teeth Whitening?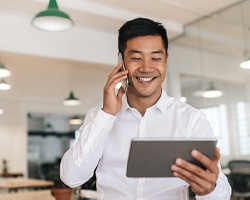 Zoom! teeth whitening system is a highly effective bleaching process that utilizes light to brighten teeth faster. Dr. Wang offers both in-office and take-home treatment, so you can choose the option that best fits your schedule and needs. Both in-office and take-home teeth whitening treatments contain ingredients that are completely safe to use and help manage any dental sensitivity that you would otherwise experience with store-bought kits.
In-Office
In-office Zoom! teeth whitening typically takes about an hour and can brighten your smile by up to eight shades. First, Dr. Wang will prepare you for treatment before applying a layer of highly concentrated, yet safe, whitening gel to your teeth. For the best results and a faster treatment, she'll shine an LED light onto your teeth. This process will take place three separate times, until you've reached your desired shade of brightness.
Take-Home
For patients who have a busy schedule and would like to complete their teeth whitening process in the comfort of their own home, Dr. Wang also offers Zoom! take-home NiteWhite teeth whitening kits. Each night or for two to four hours each day, you'll apply the whitening gel into trays and wear them. Within two weeks, you'll be able to notice beautiful results.
Benefits of Getting Teeth Whitening From a Professional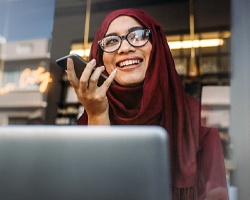 Professional teeth whitening in Rolling Meadows offers a variety of unique benefits for patients. All of the ingredients used in the treatment have been tested and proven to be reliable, safe, and effective to use, unlike a majority of over-the-counter products. Not to mention, the treatment is incredibly cost-effective because results can last for up to a year with mindful maintenance and care.
To learn how you can benefit from professional teeth whitening from your family dentist in Rolling Meadows, Dr. Wang, contact our office today to schedule a consultation.