Dental Implants – Rolling Meadows, IL
Tooth Replacement with Modern Technology
Do you find yourself thinking twice before you smile because of a missing tooth? Or, are your days filled with frustration due to a denture that is constantly slipping out of place? If so, dental implants are the solution you've been waiting for. They are the most advanced tooth replacement option available today, and you can get them right here in Rolling Meadows at Plum Grove Family Dental. Dr. Wang is ready to guide you through your entire implant journey, so in the end, a gorgeous new smile will be there to greet you. To learn more about how dental implants can rebuild your smile, contact us today.
How Dental Implants Work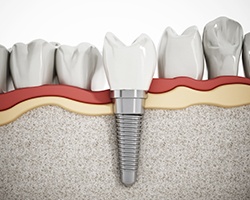 A dental implant is actually a small titanium post that is placed directly into the jawbone in order to mimic the root structure of a lost tooth. Once there, it can be used to support any number of replacement teeth. In order to get dental implants, a patient must first undergo a minor surgery, which Dr. Wang can perform right here in our office. Most other dentists have to refer out for this part of the procedure, but we'll ensure that you're able to work with the same doctor and team that you trust the entire time. After it is completed, you'll be given 3-6 months to heal before returning to our office to receive your new restoration(s).
Benefits of Dental Implants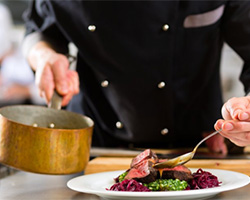 One of the most notable benefits of dental implants is their long-term durability. Unlike other options which require routine replacement, dental implants are known for lasting several decades without any issues. Thanks to their durability and effectiveness, implants have an average success rate as high as 98 percent over a 10-year period and can last between 25 years to a lifetime.
Additionally, implants work to stimulate existing bone, which means your jaw structure will no longer resorb back into your body. Now that the bone is constantly being stimulated by chewing and grinding forces, you can eat all the foods you used to enjoy with ease.
Indications for Dental Implants
Of course, dental implants wouldn't be so popular if they only replaced one tooth at a time. Thankfully, advances in implant technology allows Dr. Wang to replace many teeth at a time.
Missing Single Teeth
If you're only missing one tooth, a single implant and crown is enough to restore your smile. The crown is made from porcelain because of how naturally it mimics tooth enamel; it even reflects light in the same way! The crown is attached to the implant via an abutment, creating a sturdy foundation.
Missing Multiple Teeth
If you intend on replacing multiple teeth, an implant-retained bridge can really make a difference. Instead of buffing down existing teeth, implants take on the weight of your new restoration.
Missing All Teeth
If you're looking for a more secure denture, you can use four to six implants to hold an entire arch! Depending on the condition of your current denture, our dentist in Rolling Meadows can customize it to fit with implants or create an entirely new one for your case.
Understanding the Cost of Dental Implants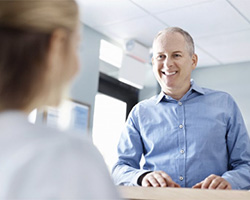 It's important to note that the cost of implants fluctuates with every individual. The number of implants you have placed, the restoration you choose, and the preparatory treatments you need can all affect the total cost of your implant treatment. Remember that dental implants are considered a long-term investment and a cost-effective one at that. This is due to their longevity, durability and lack of special maintenance.
Mini Dental Implants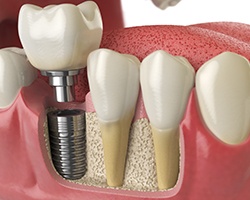 Many patients previously were not eligible to get dental implants because their jawbone was too thin or brittle to safely support the posts, but now mini implants enable more people than ever to benefit from this state-of-the-art solution. The posts are smaller, of course, but they can still be used to support a restoration that is much more stable and natural-looking than any other traditional one. And, because of their reduced size, they can often be placed and restored in much less time compared to regular implants as well.