Dental Implants - Rolling Meadows
Tooth Replacement with Modern Technology
Do you find yourself thinking twice before you smile because of a missing tooth? Or, are your days filled with frustration due to a denture that is constantly slipping out of place? If so, dental implants are the solution you've been waiting for. They are the most advanced tooth replacement option available today, and you can get them right here in Rolling Meadows at Plum Grove Family Dental. Dr. Wang is ready to guide you through your entire implant journey, so in the end, a gorgeous new smile will be there to greet you. To learn more about how dental implants can rebuild your smile, contact us today.
Implant Placement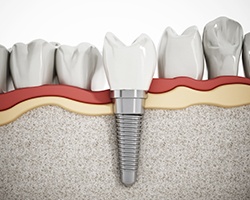 A dental implant is actually a small titanium post that is placed directly into the jawbone in order to mimic the root structure of a lost tooth. Once there, it can be used to support any number of replacement teeth. In order to get dental implants, a patient must first undergo a minor surgery, which Dr. Wang can perform right here in our office. Most other dentists have to refer out for this part of the procedure, but we'll ensure that you're able to work with the same doctor and team that you trust the entire time. After it is completed, you'll be given 3-6 months to heal before returning to our office to receive your new restoration(s).
Implant Restorations
Dental implants can be used to reliably replace any number of missing teeth for a lifetime. With an implant-retained crown, we can easily fill in the space of a single missing tooth in a way that perfectly blends with the smile. These implant crowns can also be used to support a bridge to restore multiple consecutive missing teeth as well.
And, for those with dentures, implants can even be used to secure a set of teeth that won't slip and slide out of place, and the fit can be trusted to last for many years to come.
Mini Dental Implants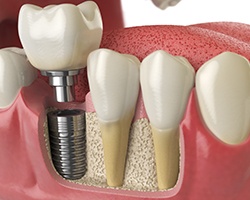 Many patients previously were not eligible to get dental implants because their jawbone was too thin or brittle to safely support the posts, but now mini implants enable more people than ever to benefit from this state-of-the-art solution. The posts are smaller, of course, but they can still be used to support a restoration that is much more stable and natural-looking than any other traditional one. And, because of their reduced size, they can often be placed and restored in much less time compared to regular implants as well.
All-on-4 Dentures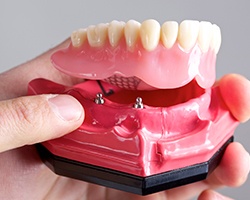 For most implant procedures, the implants need to be placed, a patient is given months to heal, and then the restorations are attached to the posts. With All-on-4, however, both implants and a denture are placed during a single appointment, enabling our team to restore an entire row of missing teeth faster than ever. Just four strategically positioned implant posts are all that is needed to support a strong and reliable denture, and it's one of the quickest ways to completely rebuild the smile.