Dental Implants – Rolling Meadows, IL
Tooth Replacement with Modern Technology
Do you find yourself thinking twice before you smile because of a missing tooth? Or are your days filled with frustration due to a denture that is constantly slipping out of place? If so, dental implants are the solution you've been waiting for. They are the most advanced tooth replacement option available today, and you can get them right here at Plum Grove Family Dental. Dr. Ye Wang is ready to guide you through your entire implant journey, so in the end, a gorgeous new smile will be there to greet you. To learn more about how dental implants in Rolling Meadows can rebuild your smile, contact us today.
Why Choose Plum Grove Family Dental for Dental Implants?
Dental Implants Placed & Restored in One Location
Flexible, Convenient Office Hours
Affordable In-Office Payment Plans Available
What Are Dental Implants?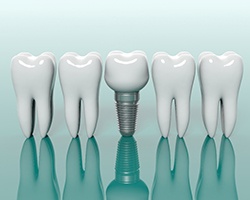 A dental implant is actually a small titanium post that is placed directly into the jawbone in order to mimic the root structure of a lost tooth. Once there, it can be used to support any number of replacement teeth. In order to get dental implants, a patient must first undergo a minor surgery, which Dr. Wang can perform right here in our office. Most other dentists have to refer out for this part of the procedure, but we'll ensure that you're able to work with the same doctor and team that you trust the entire time. After it is completed, you'll be given three to six months to heal before returning to our office to receive your new restoration(s).
The 4-Step Dental Implant Process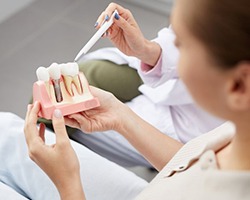 The dental implant process is complex and multi-tiered. No two treatment plans are exactly the same, but it's important for patients to understand at the outset exactly what they can expect from their implant-supported tooth replacement plan. Here are the four basic steps you'll experience:
Initial Dental Implant Consultation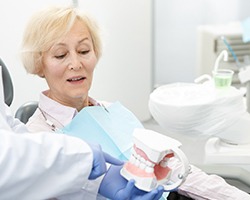 Before we get started with your tooth replacement plan, we'll sit down for a one-on-one consultation. During this appointment, we'll capture diagnostic images, review your health history, and discuss every step of your implant supported tooth replacement process. In many cases, we need to perform one or more preparatory treatments. This can include removing damaged teeth or placing a bone or soft tissue graft.
Dental Implant Surgery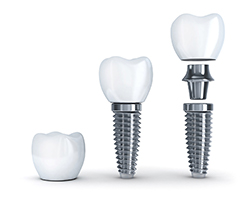 Once we've reviewed your dental implant restoration plan and completed preparatory treatments, we'll need to surgically insert the dental implant posts. To do this, we will make small incisions in the gums. Then, the implant posts are placed into the jawbone.
Dental Implant Osseointegration/Abutment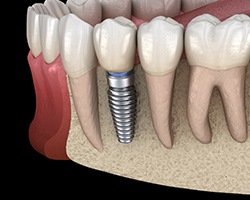 Once the dental implant post is in place, a process called osseointegration begins. This is the complex term for how the dental implant post fuses with the supportive bone and gum tissue, recreating lost tooth roots. Depending on the individual, osseointegration can take anywhere from three to six months or longer.
After this process is completed, we attach abutments. These connective pieces allow us to anchor your replacement crown, bridge, or denture to the dental implant posts. Once we place the abutments, we capture bite impressions and diagnostic images that are used to design your final restoration. This design is sent to our team of skilled dental lab technicians who will craft your new smile.
Delivery of Dental Implant Restorations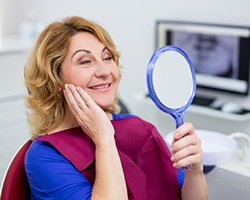 Once we've designed your dental crown, bridge, partial, or full denture, our skilled dental lab team will set to work custom crafting the restoration. Once we've received the final product from the lab, you'll come in for the final phase of treatment. We'll carefully attach your replacement tooth or teeth to the implant posts, recreating your flawless smile.
After your dental implant restoration appointment, you can confidently speak, chew, and smile in any personal or professional situation as your brand-new smile stays firmly in place. You can even brush your replacement teeth just like you would a natural smile, so there's no added hassle of changing your oral hygiene routine.
Benefits of Dental Implants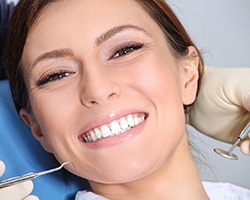 One of the most notable benefits of dental implants is their long-term durability. Unlike other options which require routine replacement, dental implants are known for lasting several decades without any issues. Thanks to their durability and effectiveness, implants have an average success rate as high as 98 percent over a 10-year period and can last between 25 years to a lifetime.
Additionally, implants work to stimulate existing bone, which means your jaw structure will no longer resorb back into your body. Now that the bone is constantly being stimulated by chewing and grinding forces, you can eat all the foods you used to enjoy with ease.
Who Dental Implants Can Help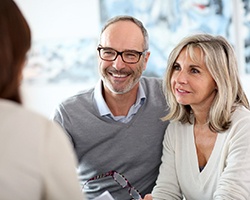 Of course, dental implants wouldn't be so popular if they only replaced one tooth at a time. Thankfully, advances in implant technology allows Dr. Wang to replace many teeth at a time.
Missing One Tooth
If you're only missing one tooth, a single implant and crown is enough to restore your smile. The crown is made from porcelain because of how naturally it mimics tooth enamel; it even reflects light in the same way! The crown is attached to the implant via an abutment, creating a sturdy foundation.
Missing Multiple Teeth
If you intend on replacing multiple teeth, an implant-retained bridge can really make a difference. Instead of buffing down existing teeth, implants take on the weight of your new restoration.
Missing All Teeth
If you're looking for a more secure denture, you can use four to six implants to hold an entire arch! Depending on the condition of your current denture, our dentist in Rolling Meadows can customize it to fit with implants or create an entirely new one for your case.
Learn More About All-on-4
Mini Dental Implants
Many patients previously were not eligible to get dental implants because their jawbone was too thin or brittle to safely support the posts, but now mini dental implants enable more people than ever to benefit from this state-of-the-art solution. The posts are smaller, of course, but they can still be used to support a restoration that is much more stable and natural-looking than any other traditional one. And, because of their reduced size, they can often be placed and restored in much less time compared to regular implants as well.
Understanding the Cost of Dental Implants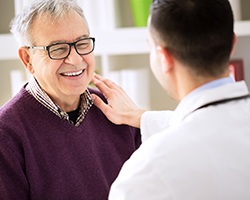 It's important to note that the cost of dental implants fluctuates with every individual. The number of implants you have placed, the restoration you choose, and the preparatory treatments you need can all affect the total cost of your implant treatment. Remember that dental implants are considered a long-term investment and a cost-effective one at that. This is due to their longevity, durability, and lack of special maintenance.
Types of Dental Implants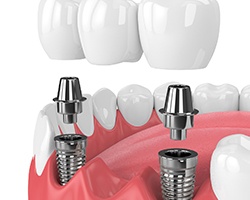 Obviously, getting dental implants means you've suffered from some kind of tooth loss, but what does that mean in your case? Is there just a small gap in your smile that could easily be filled with a single implant and a crown? Are you missing three or four teeth that a dental bridge and two implants could replace? Or are you going to need four to eight implants in order to support an entire arch of teeth? The type of restoration you need and the number of implants you get will play a major role in determining the final cost of your treatment.
What Are the Stages of Dental Implant Treatment?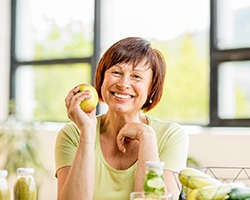 In addition to the price of the dental implants themselves, you'll also have to take the cost of the different stages of the treatment into account. First, some preparatory procedures might need to be performed depending on the state of your oral health, such as periodontal therapy to treat gum disease or bone grafting to add bone height to your jaw. After that, there's the actual surgery to place the implants, and after that you'll need separate appointments to receive an abutment and your permanent restoration. We'll create a timeline for you during your consultation and help you understand the costs at each step.
Are Dental Implants Worth the Investment?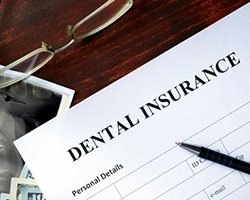 It's important to remember that paying for dental implants means that you're investing in stronger, more stable restorations that offer better chewing power than traditional dentures and won't slip while you're laughing or speaking. Implants will also prevent your jaw from degenerating (a common side effect of missing teeth), which makes all the difference when trying to maintain a more youthful appearance. Finally, keep in mind that unlike other restorations, dental implants last for decades with only basic maintenance, which can make them the more cost-efficient option in the long run.
Does Dental Insurance Cover Dental Implants?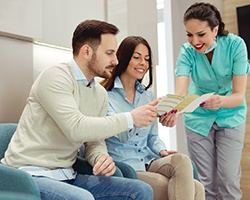 Most insurance companies consider dental implants to be a cosmetic procedure and won't cover them (although there are plans that provide coverage, so take the time to review your benefits). Bear in mind that your dental insurance might help pay for a crown, periodontal therapy, consultations, and other procedures that could be related to getting dental implants.
Plum Grove Family Dental is proud to be in-network with a wide variety of insurance carriers and will accept dental PPO plans from any provider; we can also offer our in-house payment plan or help you qualify for low-to-no interest financing with CareCredit if you don't have insurance.
Dental Implant FAQs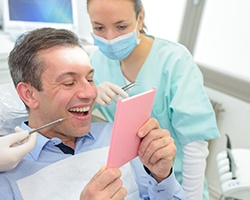 Dental implants in Rolling Meadows are an excellent investment because they provide predictable results that can last for decades. Although you would love to enjoy their benefits for yourself, it's normal to be a bit apprehensive before you're ready to commit to the procedure. We'll explain everything during your initial consultation. While you wait for your appointment, here are the answers to a few of the most common questions patients ask us about dental implants to ease your concerns.
Can I Get Dental Implants If I Have Gum Disease?
Dental implants need a healthy foundation to allow them to thrive for years with the right aftercare. Unfortunately, if you have active gum disease, you won't be a candidate for dental implants until after completing periodontal therapy. Although it will add another step to your treatment plan, it's essential to ensure the infection doesn't compromise the success of your new smile.
Will I Need Bone Grafting?
The long-term success of a dental implant relies on your jawbone fusing to the post through a process called osseointegration. To ensure it's effective, you must have adequate density in your jaw to support the post. We'll review a CT scan of your oral structures during your consultation to determine if you'll need bone grafting before your implant placement surgery. If we find any areas of weak bone, the grafting procedure will enhance the thickness to make you a candidate for dental implants. Not everyone interested in dental implants will need the treatment. Instead, it's often necessary for patients who have a history of advanced gum disease or tooth loss that hasn't been treated for many years.
Can Dental Implants Fail?
Dental implants are the most reliable option to replace your missing teeth. Although they have a nearly perfect success rate, they can fail in rare cases. Generally, the risk of failure is less than 5%, which is often caused by an infection called peri-implantitis. You can keep the infection at bay by maintaining your oral hygiene at home and visiting your dentist in Rolling Meadows at least twice a year for a cleaning and checkup.
Are Dental Implants Painful?
As with any oral surgery, it's normal to have some discomfit while you heal. You can manage it with an over-the-counter pain reliever. After you've healed, you shouldn't have any pain. If you develop any discomfort once you have recovered, it can indicate a problem. It's best to contact our office right away to prevent dental implant failure.