Dental Implants – Rolling Meadows, IL
Tooth Replacement with Modern Technology
Do you find yourself thinking twice before you smile because of a missing tooth? Or are your days filled with frustration due to a denture that is constantly slipping out of place? If so, dental implants are the solution you've been waiting for. They are the most advanced tooth replacement option available today, and you can get them right here at Plum Grove Family Dental. Dr. Ye Wang is ready to guide you through your entire implant journey, so in the end, a gorgeous new smile will be there to greet you. To learn more about how dental implants in Rolling Meadows can rebuild your smile, contact us today.
Why Choose Plum Grove Family Dental for Dental Implants?
Dental Implants Placed & Restored in One Location
Flexible, Convenient Office Hours
Affordable In-Office Payment Plans Available
What Are Dental Implants?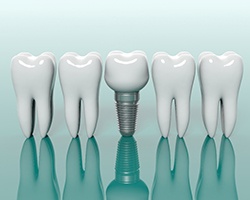 A dental implant is actually a small titanium post that is placed directly into the jawbone in order to mimic the root structure of a lost tooth. Once there, it can be used to support any number of replacement teeth. In order to get dental implants, a patient must first undergo a minor surgery, which Dr. Wang can perform right here in our office. Most other dentists have to refer out for this part of the procedure, but we'll ensure that you're able to work with the same doctor and team that you trust the entire time. After it is completed, you'll be given three to six months to heal before returning to our office to receive your new restoration(s).
The 4-Step Dental Implant Process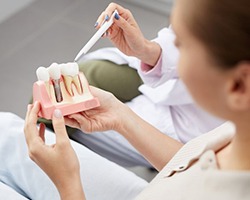 The dental implant process is complex and multi-tiered. No two treatment plans are exactly the same, but it's important for patients to understand at the outset exactly what they can expect from their implant-supported tooth replacement plan. Here are the four basic steps you'll experience:
Initial Dental Implant Consultation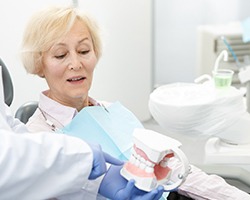 Before we get started with your tooth replacement plan, we'll sit down for a one-on-one consultation. During this appointment, we'll capture diagnostic images, review your health history, and discuss every step of your implant supported tooth replacement process. In many cases, we need to perform one or more preparatory treatments. This can include removing damaged teeth or placing a bone or soft tissue graft.
Dental Implant Surgery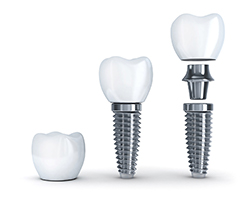 Once we've reviewed your dental implant restoration plan and completed preparatory treatments, we'll need to surgically insert the dental implant posts. To do this, we will make small incisions in the gums. Then, the implant posts are placed into the jawbone.
Dental Implant Osseointegration/Abutment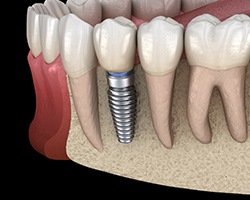 Once the dental implant post is in place, a process called osseointegration begins. This is the complex term for how the dental implant post fuses with the supportive bone and gum tissue, recreating lost tooth roots. Depending on the individual, osseointegration can take anywhere from three to six months or longer.
After this process is completed, we attach abutments. These connective pieces allow us to anchor your replacement crown, bridge, or denture to the dental implant posts. Once we place the abutments, we capture bite impressions and diagnostic images that are used to design your final restoration. This design is sent to our team of skilled dental lab technicians who will craft your new smile.
Delivery of Dental Implant Restorations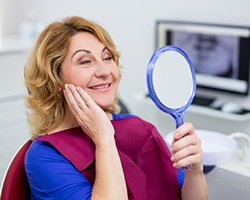 Once we've designed your dental crown, bridge, partial, or full denture, our skilled dental lab team will set to work custom crafting the restoration. Once we've received the final product from the lab, you'll come in for the final phase of treatment. We'll carefully attach your replacement tooth or teeth to the implant posts, recreating your flawless smile.
After your dental implant restoration appointment, you can confidently speak, chew, and smile in any personal or professional situation as your brand-new smile stays firmly in place. You can even brush your replacement teeth just like you would a natural smile, so there's no added hassle of changing your oral hygiene routine.
Benefits of Dental Implants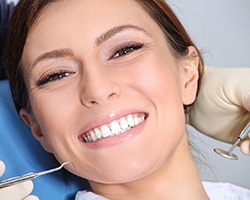 Dental implants have become increasingly popular in recent years – and there's a good reason for that. Thanks to their unique placement inside the jawbone, this method of tooth replacement provides a range of incredible benefits that you simply can't get with alternative solutions. Whether you're missing one tooth, a few teeth, or an entire arch, dentists will often recommend implants because they have the potential to significantly improve your confidence, health, and quality of life. To learn more, continue reading or contact us today to speak directly with a member of our team!
Day-to-Day Benefits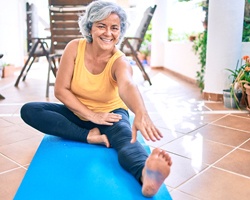 Some patients find that their dentures limit their ability to enjoy life to the fullest. In most cases, it's because the prosthetic tends to slip and slide around in their mouth after some time. Luckily, you never have to worry about your teeth moving out of place with dental implants! Since they're designed to stay firmly in place, they allow you to:
Comfortably eat most foods. Implants replace the entire structure of a missing tooth, from the root up to the chewing surface. Because of that, they're much more stable and can stand virtually any food.
Smile with confidence. Dental implants are custom-made to suit your facial aesthetics perfectly. Since they're almost identical to your original pearly whites, you can enjoy a natural-looking yet beautiful smile.
Speak easily. Ill-fitting dentures can slip around in the mouth, causing you to have difficulty speaking. Implants are secure enough that you can speak clearly and confidently at all times.
Practice good oral hygiene. Maintaining your implants doesn't special care beyond what's already required for natural teeth. That means you don't have to worry about incorporating complicated steps into your oral hygiene routine!
Health Benefits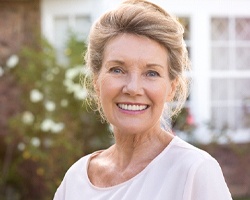 Beyond improving your day-to-day life, dental implants can also:
Preserve your jawbone. Since implants are surgically inserted into the jawbone, they provide internal support and prevent bone loss. As a result, it helps maintain your overall facial structure for years to come.
Protect your natural teeth. It's common for teeth to shift after tooth loss. Luckily, dental implants serve as a placeholder and prevent your pearly whites from moving. They'll make sure your smile stays exactly as it is!
Offer systemic health benefits. Studies show a correlation between tooth loss and an increased risk of several diseases. That said, because dental implants are so similar to natural teeth, it's safe to assume that they can help lower such risks.
Long-Term Benefits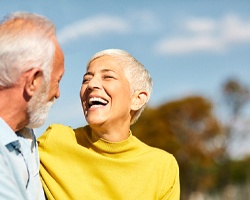 Unlike other solutions, dental implants have the potential to last a lifetime. Unlike other solutions, dental implants have the potential to last a lifetime. Even ten years after placement, they have a 90-95% success rate. You don't have to worry about replacing them every few years like you would with dentures and dental bridges. Because of that, you can expect to save plenty of money and time in the long run compared to alternative treatments.
Who Dental Implants Can Help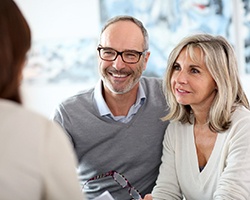 Of course, dental implants wouldn't be so popular if they only replaced one tooth at a time. Thankfully, advances in implant technology allows Dr. Wang to replace many teeth at a time.
Missing One Tooth
If you're only missing one tooth, a single implant and crown is enough to restore your smile. The crown is made from porcelain because of how naturally it mimics tooth enamel; it even reflects light in the same way! The crown is attached to the implant via an abutment, creating a sturdy foundation.
Missing Multiple Teeth
If you intend on replacing multiple teeth, an implant-retained bridge can really make a difference. Instead of buffing down existing teeth, implants take on the weight of your new restoration.
Missing All Teeth
If you're looking for a more secure denture, you can use four to six implants to hold an entire arch! Depending on the condition of your current denture, our dentist in Rolling Meadows can customize it to fit with implants or create an entirely new one for your case.
Learn More About All-on-4
Mini Dental Implants
Many patients previously were not eligible to get dental implants because their jawbone was too thin or brittle to safely support the posts, but now mini dental implants enable more people than ever to benefit from this state-of-the-art solution. The posts are smaller, of course, but they can still be used to support a restoration that is much more stable and natural-looking than any other traditional one. And, because of their reduced size, they can often be placed and restored in much less time compared to regular implants as well.
Understanding the Cost of Dental Implants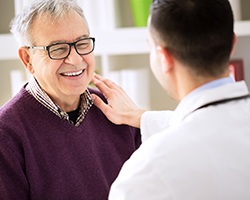 It's important to note that the cost of dental implants fluctuates with every individual. The number of implants you have placed, the restoration you choose, and the preparatory treatments you need can all affect the total cost of your implant treatment. Remember that dental implants are considered a long-term investment and a cost-effective one at that. This is due to their longevity, durability, and lack of special maintenance.
Types of Dental Implants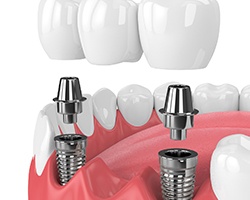 Obviously, getting dental implants means you've suffered from some kind of tooth loss, but what does that mean in your case? Is there just a small gap in your smile that could easily be filled with a single implant and a crown? Are you missing three or four teeth that a dental bridge and two implants could replace? Or are you going to need four to eight implants in order to support an entire arch of teeth? The type of restoration you need and the number of implants you get will play a major role in determining the final cost of your treatment.
What Are the Stages of Dental Implant Treatment?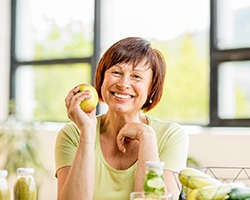 In addition to the price of the dental implants themselves, you'll also have to take the cost of the different stages of the treatment into account. First, some preparatory procedures might need to be performed depending on the state of your oral health, such as periodontal therapy to treat gum disease or bone grafting to add bone height to your jaw. After that, there's the actual surgery to place the implants, and after that you'll need separate appointments to receive an abutment and your permanent restoration. We'll create a timeline for you during your consultation and help you understand the costs at each step.
Are Dental Implants Worth the Investment?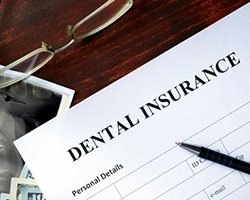 It's important to remember that paying for dental implants means that you're investing in stronger, more stable restorations that offer better chewing power than traditional dentures and won't slip while you're laughing or speaking. Implants will also prevent your jaw from degenerating (a common side effect of missing teeth), which makes all the difference when trying to maintain a more youthful appearance. Finally, keep in mind that unlike other restorations, dental implants last for decades with only basic maintenance, which can make them the more cost-efficient option in the long run.
Does Dental Insurance Cover Dental Implants?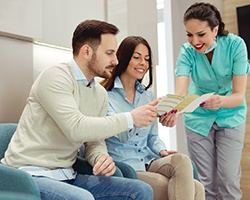 Most insurance companies consider dental implants to be a cosmetic procedure and won't cover them (although there are plans that provide coverage, so take the time to review your benefits). Bear in mind that your dental insurance might help pay for a crown, periodontal therapy, consultations, and other procedures that could be related to getting dental implants.
Plum Grove Family Dental is proud to be in-network with a wide variety of insurance carriers and will accept dental PPO plans from any provider; we can also offer our in-house payment plan or help you qualify for low-to-no interest financing with CareCredit if you don't have insurance.
Maintaining & Caring for Your Dental Implants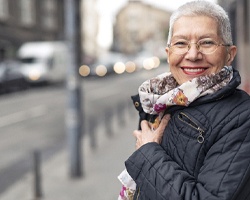 Dental implants have an impressive success rate of 90-95%, even after ten years. However, that's only the case if you take proper care of them and protect them from damage and infection. At Plum Grove Family Dental, we'll provide you with dental implant aftercare instructions and explain which steps you need to take to ensure your prosthetics stay firmly in place for a lifetime. Following a few simple precautions and incorporating healthy habits into your everyday life can help you enjoy your newly rebuilt smile for years to come! If you want to learn how to maintain your implants properly, continue reading or make an appointment with our team today!
Make Oral Hygiene a Priority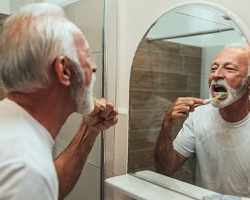 Just because dental implants can't get cavities doesn't mean you can slack off with your oral hygiene. You must continue to pay careful attention to brushing, flossing, and rinsing. If you want to prevent dental implant failure and protect your smile against oral health issues (i.e., decay, cavities, gum disease), you'll need to follow a solid at-home dental care routine. To keep your implants in their very best shape, you must brush twice a day for two minutes at a time, floss daily, and rinse with an ADA-approved mouthwash.
Eat a Healthy Diet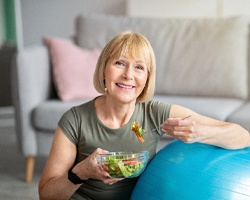 Believe it or not, your diet has a significant impact on your oral health. Although it's okay to have a piece of cake or a few potato chips every now and then, overconsumption can be problematic for your dental implants. Instead, you stick to a diet full of nutrient-rich foods that'll benefit your oral and overall health (i.e., fruits, vegetables, whole grains, dairy products, lean proteins). Make sure to eat plenty of foods with calcium and vitamin C – they'll keep your jawbone strong and gum tissues healthy!
Break Bad Habits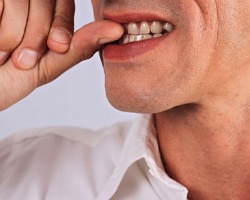 Do you smoke? Bite your fingernails? Chew on pens or pencils when you're bored? Use your teeth as tools? Eat leftover ice? These poor habits may seem harmless, but they can destroy your natural tooth enamel and dental implants. Do your new smile a favor and kick these bad habits to the curb! It's a good idea to keep some sugar-free gum in your pocket just in case temptation strikes. If you want to quit smoking, you can inquire about available resources to help you quit.
Protect Your Dental Implants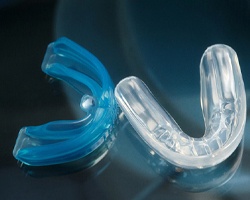 Even though dental implants are strong, they're not indestructible. If you regularly play sports or grind your teeth at night, ask Dr. Wang about a custom-made oral device. You can wear an athletic mouthguard while you play or a nightguard while you sleep to prevent damage to your enamel and implants. What's more, you can also avoid chronic jaw pain that can lead to temporomandibular joint disorder.
Schedule Regular Dental Checkups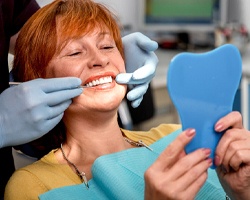 Aside from practicing good oral hygiene, you must visit Dr. Wang every six months for a checkup and cleaning. These routine appointments will allow her to review your dental implants to ensure there are no problems developing. By catching and treating issues early on, you can extend the longevity of your smile and enjoy it for life.
Dental Implant FAQs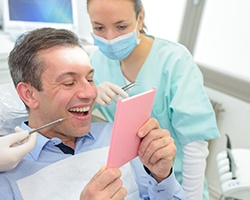 Dental implants in Rolling Meadows are an excellent investment because they provide predictable results that can last for decades. Although you would love to enjoy their benefits for yourself, it's normal to be a bit apprehensive before you're ready to commit to the procedure. We'll explain everything during your initial consultation. While you wait for your appointment, here are the answers to a few of the most common questions patients ask us about dental implants to ease your concerns.
Can I Get Dental Implants If I Have Gum Disease?
Dental implants need a healthy foundation to allow them to thrive for years with the right aftercare. Unfortunately, if you have active gum disease, you won't be a candidate for dental implants until after completing periodontal therapy. Although it will add another step to your treatment plan, it's essential to ensure the infection doesn't compromise the success of your new smile.
Will I Need Bone Grafting?
The long-term success of a dental implant relies on your jawbone fusing to the post through a process called osseointegration. To ensure it's effective, you must have adequate density in your jaw to support the post. We'll review a CT scan of your oral structures during your consultation to determine if you'll need bone grafting before your implant placement surgery. If we find any areas of weak bone, the grafting procedure will enhance the thickness to make you a candidate for dental implants. Not everyone interested in dental implants will need the treatment. Instead, it's often necessary for patients who have a history of advanced gum disease or tooth loss that hasn't been treated for many years.
Can Dental Implants Fail?
Dental implants are the most reliable option to replace your missing teeth. Although they have a nearly perfect success rate, they can fail in rare cases. Generally, the risk of failure is less than 5%, which is often caused by an infection called peri-implantitis. You can keep the infection at bay by maintaining your oral hygiene at home and visiting your dentist in Rolling Meadows at least twice a year for a cleaning and checkup.
Are Dental Implants Painful?
As with any oral surgery, it's normal to have some discomfit while you heal. You can manage it with an over-the-counter pain reliever. After you've healed, you shouldn't have any pain. If you develop any discomfort once you have recovered, it can indicate a problem. It's best to contact our office right away to prevent dental implant failure.
Dental Implants Post-Op Instructions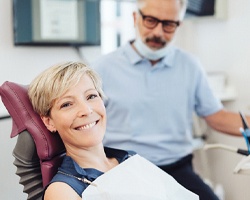 Once your dental implant has been placed, you've completed the most difficult part of your tooth replacement process. Now, you'll just need to pay close attention to your aftercare to ensure the smoothest recovery possible. Thankfully, doing so is pretty simple and straightforward. While our office will go over all the most important tips for you to keep in mind following your surgery, you're encouraged to read more about them in detail below. If you have any questions or notice side effects that aren't mentioned, please give us a call.
What to Do Directly After Dental Implant Surgery
The most important aftercare step we can give you is to protect the clot that's formed over the treatment site. If this clot comes loose and falls off, it can lead to dry socket. To keep the clot in place and healing properly, take note of the following tips:
Avoid spitting, especially with force. Use tissues to soak up excess saliva or simply swallow it throughout the day.
Do not use straws as the sucking motion can cause the clot to loosen.
Avoid smoking or using tobacco products (ideally you should quit completely, but it's especially important over the next 24 hours).
Keep your tongue and fingers away from the treatment site.
Common Side Effects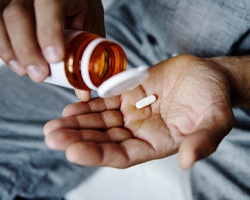 Mild side effects are common following dental implant placement (and any oral surgery for that matter). This means if you experience any of the following, you can relax knowing they are a normal part of the healing process:
Intermittent bleeding: This will lessen over the next few days but can be managed by applying light pressure to the area with a gauze pad.
Facial swelling: Swelling is common between 3 and 7 days and can be managed by applying cold compresses to your cheek throughout the day.
Mild discomfort: Taking pain medication over the next few days will help you stay comfortable as you heal.
Diet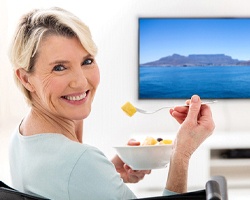 Over the first few days your mouth is healing, you'll need to stick to a soft diet to prevent any harm to your implant site. Soft foods include options that require very little to no chewing to consume, including the following:
Fruit smoothies (no straw)
Applesauce
Bananas (mashed)
Yogurt
Scrambled eggs
Cold soup
Mashed potatoes
Pudding
Ice cream
Health & Oral Hygiene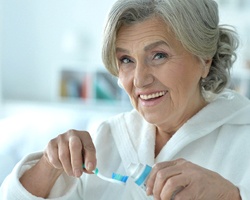 The day after your surgery, it's okay to brush your remaining teeth. Just be sure to avoid touching the treatment site and be gentle when brushing and flossing. You should also avoid spitting with force when rinsing your mouth out with water. For extra protection, consider rinsing your mouth with an alcohol-free mouthwash. This can work to kill harmful bacteria that could negatively impact your healing process.
What to Do After Your New Teeth Are Attached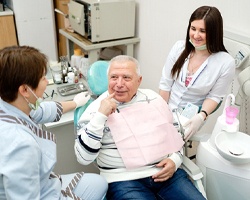 Once your new teeth are attached, you'll begin to notice some minor sensitivity in your gums nearby the treatment site. However, this is a normal side effect and you'll quickly adjust to your tooth replacement over the next week or so. If you'd like, you can also take OTC medications to alleviate any discomfort you experience. At this point in time, there should no longer be any bleeding, swelling, or extensive recovery needed. You can walk out of our practice with a beautiful, confident smile!
Dental Implant Technology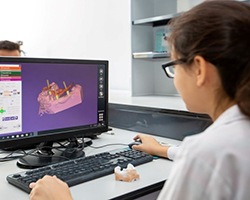 Dr. Wang and our team have extraordinary skill and training that enables us to provide top-quality dental implant care. However, we could not do what we do without the assistance of state-of-the-art technology. Would you like to learn about some of the advanced instruments that could make your tooth replacement journey as easy as possible? Below, you will find some fascinating information. If you have questions about what you read, give us a call — we are always happy to speak with current and prospective patients.
Guided Dental Implant Surgery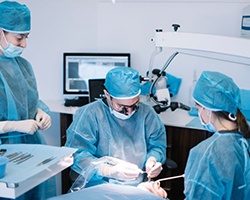 There are a couple of different ways in which dental implant placement surgery can be performed.
In the past, dentists always used freehand placement. In other words, they took an educated guess as to exactly where, at what angle, and how deep the dental implants should be inserted in a patient's jawbone.
There is nothing really "wrong" with freehand placement; it can be very successful, particularly in cases where a patient does not have a lot of complicating factors. For example, freehand surgery is often used when a patient is receiving just one dental implant and does not have any unusual anatomical features.
Today, guided dental implant surgery is strongly preferred in some cases. After taking a detailed impression of a patient's mouth, we send that information to a local laboratory, which then fabricates a custom surgical guide. The guide helps us to know exactly where to place the implants. This can reduce the risk of dental implant failure and contribute to a shorter recovery time after the procedure.
Although creating a surgical guide can slightly increase your total treatment time, it is often well worth it. After all, it can ensure that your new teeth have the highest possible chance of success!
Digital Impression System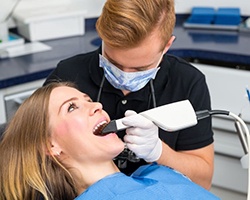 The traditional method for taking dental impressions involves the use of a putty, which a patient has to bite down on until the putty material solidifies. Manual impressions can be uncomfortable and time-consuming. Sometimes, they must be taken multiple times to ensure accuracy.
Here at Plum Grove Family Dental, Dr. Wang uses a digital impression system instead. To capture a detailed impression of your mouth, all we have to do is move a wand-like device around your mouth. It can take thousands of images of your oral structures and then use advanced software to assemble those images into an incredibly accurate digital impression.
The digital impression system is fast and comfortable, and it can make your treatment process more efficient because we can send your impressions to a laboratory digitally rather than dealing with regular shipping methods.
Since a digital impression will be used to create your new crown, bridge, or denture, you can be confident that your new teeth will provide a superb fit and reliable function.