Emergency Dentistry - Rolling Meadows
Having Tooth Pain? Call Us!
There are really only two kinds of dental emergencies: those that occur suddenly, like a knocked out tooth, and those that develop slowly over time, such as a severe toothache. In either case, getting immediate attention is the key to preventing a bad problem from becoming much worse. For the people of Rolling Meadows, the way to get emergency dentistry is nice and easy: just call Plum Grove Family Dental.
When you call us with an emergency, our dental team will be ready to offer advice, first-aid tips, and even provide same-day care if necessary. We have no problem moving our schedule around so we can see emergency patients as quickly as possible. If you ever need dental care right NOW, just give us a call, and you can trust us to take care of the rest!
Contact Us for these Emergencies: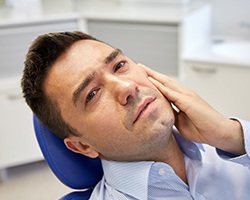 Knocked out tooth
Partially dislodged tooth
Chipped, cracked, or broken tooth
Severe toothache
Damaged or lost dental work
Object stuck between the teeth
Injury to the lips, gums, or jaw
Pain or swelling in the face