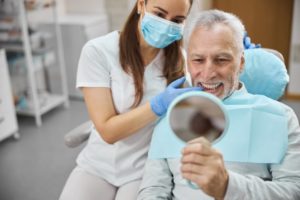 Dental implants are considered the gold standard of tooth-loss solutions. In addition to being incredibly lifelike, they are also a long-lasting option for missing teeth. Their durability comes from the fact that they replace the entire tooth structure, from root to crown. But how long exactly can you count on your complete smile to last? Read on to learn about their lifespan and what you can do to help them last as long as possible!
What is the Average Lifespan of Dental Implants?
Dental implants can easily last a lifetime with proper maintenance! The average lifespan is 30 years or more. They provide you with a long-lasting complete smile due to having unique qualities compared to other tooth-loss solutions, such as:
Osseointegration: Titanium is biocompatible, which means that it integrates easily with human tissues and bones. Your implants will begin to bond with your jawbone after they are placed and eventually become one with it, providing a solid foundation for your new teeth.
Sturdy Placement: Prosthetics like dentures rely on your gums or healthy neighboring teeth to be held in place. On the other hand, dental implants are directly anchored to your jawbone. This placement mimics your natural dental roots, allowing you to enjoy a lifelike solution for missing teeth.
Jawbone Support: Confidence is not the only thing that is lost when you lose your pearly whites; your jawbone can also begin to deteriorate when there are no teeth present to stimulate your jaw. Dental implants help stimulate blood flow directly into the bone tissue and your jawbone can gain strength over time.
Tips to Extend the Lifespan of Your Dental Implants
While you can count on your restoration for years to come, they still require care, just as natural teeth do. The following will help them last as long as possible:
Maintain Good Oral Hygiene: Even though your replacement teeth will not decay, the tissues around them are more likely to develop periodontal disease than the gum tissue around your natural teeth. Daily and consistent brushing and flossing are a must to keep your implants in good shape for a long period of time.
Visit Your Dentist: Your biannual exams and checkups are vital for the longevity of your implants. They will keep your oral health in top condition, as well as allow your dentist to check for any problems that need to be addressed before they begin affecting your dental implants.
Avoid Smoking and Tobacco: Nicotine buildup from smoking negatively influences the blood supply to your gums. This increases your chances of dental implant failure and is often a huge contributing factor when the procedure isn't successful.
As you can see, dental implants are a wonderful investment to not only your smile but your dental health! With the proper care, your beautifully complete smile will be healthy for years to come.
About the Author
Dr. Ye Wang and her team at Plum Grove Family Dental keep the smiles of Rolling Meadows complete and healthy. With over two decades of experience and a 5-star rating on Google, her goal is to help you restore your teeth to their best condition! She offers a wide range of services under one roof, including dental implants. If you'd like to schedule a consultation, visit her website or call 847-221-5860.