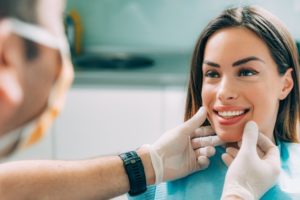 Cosmetic dentistry can give you the new, beautiful smile you have always dreamed of! From brightening your teeth with professional whitening to concealing chips or cracks with dental bonding, advanced dental technologies and techniques provide so many options. However, you want your investment in your new pearly whites to last. Read on to learn about five common cosmetic dentistry options and the amount of time you can expect to enjoy them!
#1. Veneers
Veneers are thin, durable shells of porcelain that are placed on the front surfaces of your teeth to disguise various dental flaws (i.e., chips, cracks, stains, gaps, or misshapen teeth). They can transform your smile in just two appointments and last 10-15 years with proper dental care.
#2. All-Ceramic Restorations
These restorations repair teeth while also maintaining a natural appearance. Dental ceramic is a high-quality material known for its strength and ability to perfectly mimic the look of real enamel. They're extremely durable and can last 15 or more years before warranting replacement.
#3. Dental Bonding
Do you have an hour to spare? Dental bonding can quickly correct minor stains, cracks, and gaps. A color-matched composite resin is applied to the flawed tooth and sculpted perfectly to hide any problems. The process may be fast, but you can enjoy your flawless new smile for up to 10 years!
#4. Professional Teeth Whitening
Professional teeth whitening is one of the most popular cosmetic dental treatments. Whether you opt for an in-office procedure or a take-home whitening kit, you can achieve a dramatically brighter grin in no time. For example, Zoom! Teeth Whitening can brighten your smile up to eight shades in less than an hour. Your results can last anywhere from 6 months to three years, depending on your oral habits.
#5. ClearCorrect
ClearCorrect is an orthodontic treatment that uses a series of clear aligners to straighten your teeth subtly and comfortably. Once they shift into the desired position, you must wear a retainer to preserve your results. If you follow your specific treatment plan, the results can last a lifetime!
Tips for Maintaining Your New Smile
The longevity of your results is influenced by oral hygiene and lifestyle choices. Here are some tips to help prolong the lifespan of your treatment:
Maintain a good oral hygiene routine (brush twice a day and floss daily)
Avoid smoking and other tobacco products
Watch your intake of sugary, acidic, and processed foods
Visit your dentist biannually for cleanings and exams
Although the lifespan for each cosmetic dental treatment varies, you can ensure your new smile will last as long as possible with proper dental care and healthy habits!
About the Author
Dr. Ye Wang and her team at Plum Grove Family Dental serve the families of Rolling Meadows and the surrounding areas. With over two decades of experience and a 5-star rating of over 60 reviews on Google, she can help you to achieve the smile of your dreams! She offers a wide range of high-quality cosmetic services, from Zoom! Teeth Whitening to veneers. If you'd like to schedule a consultation, visit her website or call 847-221-5860.