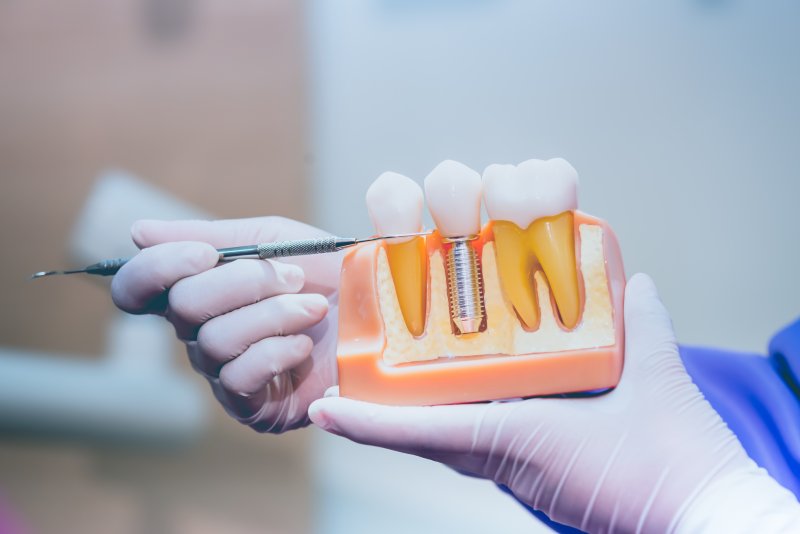 If you're looking into tooth restorations, you've probably heard of dental implants. These replacement teeth can restore a smile in just a few short appointments! However, you may wonder if they can truly meet your dental needs. Perhaps your issue is different from that of other patients. Well, you can trust you'd receive good results since there are three major types of dental implants. Each is geared toward resolving specific restoration problems, from single-tooth replacements to giving you a whole new arch! To learn more, here's a summary of single type, bridge type, and denture type implants.
Single Type
The single-type is the most common kind of implant. It replaces a missing tooth by placing a titanium post in the now-empty socket of your jawbone. As new bone grows around said post, the implant fuses with your jaw until it's as secure as any other pearly white.
If you have one or more missing teeth that aren't adjacent to each other, then a single tooth dental implant may be your best option.
Bridge Type
As you may know, a dental bridge has two crowns holding an artificial tooth. Similarly, an implant-supported bridge has crowns connecting to dental implants.
The procedure for this restoration is similar to the single-tooth type. However, the teeth missing in the middle of the gap will not receive an implant.
The ideal candidate for this treatment is someone who needs to replace multiple missing teeth adjacent to each other.
Denture Type (i.e., Implant-Retained Dentures)
An implant-retained denture is an artificial arch of teeth. Unlike a traditional one, though, it is secured to the jaw with dental implants. As a result, it doesn't slip, slide, click, or fall out during tasks like eating or speaking.
To create this denture, a dentist will place four single-type dental implants along your arch. Once these new teeth fully heal, you'll receive a custom denture that fastens to them. The result will be a permanent, secure prosthetic custom-made to fit your looks.
No matter the number or position of the replacement teeth needed, the types of dental implants will have you covered. Talk with your local dentist in the coming days to see for yourself!
About the Practice
Plum Grove Family Dental is based in Rolling Meadows, IL. As led by Dr. Ye Wang, the practice emphasizes personalized dental care. As such, the staff offers customized preventive, cosmetic, and restorative dentistry, not to mention emergency services. Whether you're a child or a senior, the Plum Grove team can do everything from dental checkups to dental implants. For more information or to book an appointment, you can reach them at their website or by phone at (847)-221-5860.