Single Tooth Dental Implant – Rolling Meadows, IL
Enjoy a Functional, Beautiful Smile
New advancements in dentistry make it possible for your natural teeth to last for longer than before. Unfortunately, 120 million Americans are missing at least one tooth. Whether from decay, disease, trauma, or extraction, it is best to replace the tooth quickly. Besides conventional treatments, you now have another option to fill the empty space. Dental implants in Rolling Meadows allow you to enjoy the next best thing to what nature gave you. At Plum Grove Family Dental, Dr. Ye Wang provides the customized solution you need to rebuild your smile.
Single Tooth Replacement Options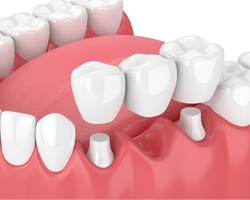 You may not feel it is an immediate concern to replace your tooth because it is only one; however, every tooth has an influential role in your oral health. When one is lost, the crown is not the only thing missing. You also lose the root. Now, your jawbone slowly deteriorates because it is no longer stimulated by the root.
Over time, your teeth lose the support they need to stay in place. As they drift out of position, it increases your risk of tooth decay, gum disease, and additional tooth loss. The more teeth you lose, the more severe the complications become for both your oral health and your quality of life.
It is best to replace your missing tooth as quickly as possible. Your dentist in Rolling Meadows, Dr. Wang performs a consultation and discusses your treatment options, which may include:
Fixed Bridge: Wang takes an impression of your mouth to create a prosthetic tooth to fill the empty space. It is held in place using dental crowns bonded to the adjacent teeth. This restores your ability to chew while slowing the progression of dental drift.
Single Tooth Implant: An implant post is surgically placed into your jawbone to act as a new root. A special fixture called an abutment is attached to the post to connect a custom-made crown. This method replaces the entire structure of the tooth to save your smile from the complications of tooth loss.
Benefits of Single Unit Implant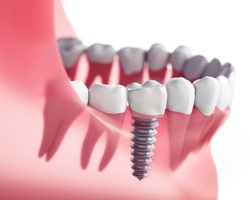 Since a dental implant replaces the root and the crown, it provides several advantages that cannot be achieved using any other treatment, such as:
95% success rate to last for several decades.
All-ceramic material makes it look natural.
Restores 70% of your biting force.
Does not alter any healthy teeth.
Stops dental drift to improve your oral health.
Reduces your risk of tooth decay, gum disease, and tooth loss.
Preserves your jawbone's density.
Protects your facial structures to prevent premature wrinkles.
Easy maintenance and care.
Cost-effective because it does not need to be replaced.
Long-term solution that can last for a lifetime.
Schedule an Appointment Today!
If you have a missing tooth, do not wait to have it replaced. Plum Grove Family Dental has the personalized solution you need to rebuild a beautiful, functional smile. Contact our office today to schedule your consultation. Dr. Wang will help you make the right choice for your smile.