Multiple Tooth Implants – Rolling Meadows, IL
Replace Missing Teeth Permanently and Securely
If you need to replace several missing teeth, then don't only consider the part that's visible when you smile and talk. You need to think about the portion that is below the gum line, too. A tooth root is very important to the health of your mouth and your overall facial appearance. Dental implants in Rolling Meadows replace both the crown and root of a missing tooth, which makes them look and feel more like your own. Single or multiple tooth implants are available. Schedule a consultation with Dr. Wang to learn more about your options.
Non-Implant Tooth Replacement Options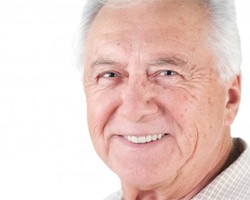 Crown and Bridge. This reliable prosthetic replaces from one to three missing teeth. False teeth, also called pontics, bridge the gap in your smile. The false teeth are connected to abutment crowns that attach to healthy teeth at both ends of the gap. A crown and bridge can be an economical and efficient means of replacing missing teeth.
Partial Denture. Often just called a partial, this prosthetic is made of false teeth that are part of a metal frame. The frame has clasps that attach to one or two of your remaining healthy teeth. Like a jigsaw puzzle piece, a partial fits between healthy teeth to fill in the gaps left by tooth loss.
Full Denture. If you are missing all of the teeth along your upper or lower jaw, dentists have used full dentures for many years as an affordable and effective replacement. Prosthetic teeth are mounted on a flexible, gum-colored base that fits comfortably snug over your gum ridge. Natural suction and denture adhesive keep dentures in place.
Receiving Dental Implants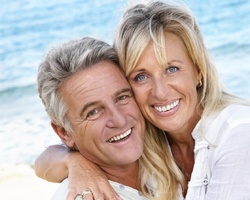 If you and Dr. Wang decide that dental implants are the right choice for you, then plan on the entire process taking several months. There may be one or two preparatory procedures required beforehand. For example, some patients need to have teeth extracted, or you may need bone or tissue graft surgery. But in all cases, a complete set of digital X-rays are taken to ensure that your dental implants are placed properly.
Next comes the implant surgery. For multiple tooth implants, several incisions are made in your gums to expose small sections of your jawbone. The dentist in Rolling Meadows then surgically places the implants. Over the following months, your gum tissue will heal while the implanted posts and surrounding bone tissue fuse together to create a strong foundation for your new tooth.
Lastly, an implant-retained crown, bridge, partial or full denture is attached to the implants and you have a complete smile once again.
The Benefits of Dental Implants in West Orange
Dental implants offer several advantages over other tooth replacement options:
Because they are independent, implants do not affect other teeth
Dental implants rebuild a tooth from root to crown
Implants are secure and immovable
They help preserve the shape of your jaw and your gum tissue volume
Daily oral hygiene is all that's needed to keep dental implants clean
With proper oral hygiene care and regular dental checkups, implants can last for 30 years or more, while other prosthetics need regular maintenance and eventual replacement