Cost of Dental Implants – Plum Grove, IL
Investing in New Teeth
One of the first things you need to figure out when getting dental implants is how much you'll ultimately pay for them. There are plenty of factors that go into determining the cost, and Dr. Ye Wang is here to make sure all of them are taken into account before creating a reliable estimate. If you're ready to make a long-term investment in a strong, healthy smile, contact Plum Grove Family Dental today to schedule a consultation and ask about the cost of dental implants in Rolling Meadows.
Types of Dental Implants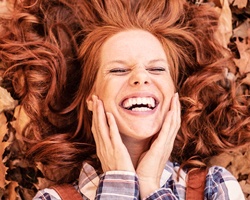 Obviously, getting dental implants means you've suffered from some kind of tooth loss, but what does that mean in your case? Is there just a small gap in your smile that could easily be filled with a single implant and a crown? Are you missing three or four teeth that a dental bridge and two implants could replace? Or are you going to need four to eight implants in order to support an entire arch of teeth? The type of restoration you need and the number of implants you get will play a major role in determining the final cost of your treatment.
What are the Stages of Dental Implant Treatment?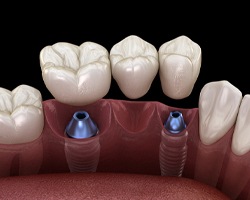 In addition to the price of the dental implants themselves, you'll also have to take the cost of the different stages of the treatment into account. First, some preparatory procedures might need to be performed depending on the state of your oral health, such as periodontal therapy to treat gum disease or bone grafting to add bone height to your jaw. After that, there's the actual surgery to place the implants, and after that you'll need separate appointments to receive an abutment and your permanent restoration. We'll create a timeline for you during your consultation and help you understand the costs at each step.
Are Dental Implants Worth the Investment?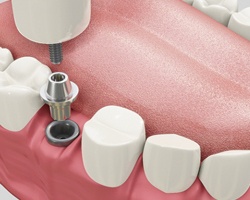 It's important to remember that paying for dental implants means that you're investing in stronger, more stable restorations that offer better chewing power than traditional dentures and won't slip while you're laughing or speaking. Implants will also prevent your jaw from degenerating (a common side effect of missing teeth), which makes all the difference when trying to maintain a more youthful appearance. Finally, keep in mind that unlike other restorations, dental implants last for decades with only basic maintenance, which can make them the more cost-efficient option in the long run.
Does My Dental Insurance Cover Dental Implants?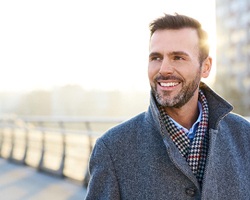 Most insurance companies consider dental implants to be a cosmetic procedure and won't cover them (although there are plans that provide coverage, so take the time to review your benefits). Bear in mind that your dental insurance might help pay for a crown, periodontal therapy, consultations, and other procedures that could be related to getting dental implants. Plum Grove Family Dental is proud to be in-network with a wide variety of insurance carriers and will accept dental PPO plans from any provider; we can also offer our in-house payment plan or help you qualify for low-to-no interest financing with CareCredit if you don't have insurance.